My favorite fictional heroes would hide a knife within easy reach. When villains appeared, and the need arose, a concealed blade would, as if by magic, materialize into the hero's hands. Depending on the threat, a survival knife would make it into the heart or hand of the villain with expert precision. As a child, I was a big fan of these heroes and their concealed badass ways of handling trouble. I wanted to be just like them when I grew up, so I sought out places to hide a knife.
A Concealed Fascination
It was an epic day when my dad brought home a set of throwing knives someone had given him. My brother, sister, neighbor, and I were so excited to be blade masters. We made bulls-eye targets out of hay bales, pallets, and boxes. The blade of the knife was a little longer than my eight-year-old hand. If I were going to hide a knife, it wouldn't be easy with these large blades.
The cool factor of the knives was not dampened in my mind when we realized the tips were unsharpened. They were also heavy, so if the blades didn't get thrown hard enough, they would bounce off the target, which was definitely not very satisfying. I realized that I needed many hours of throwing blades before I could become a knife-wielding hero. It also occurred to me that I had no idea where to hide a knife for quick and easy access.
Since then, I have paid close attention to what knife holsters are being sold that would hide a knife.
Hide a Knife
Below are six places I've discovered to hide a knife conveniently. These methods can be dangerous! Don't try any knife concealment techniques without the training and supervision of a tactical professional trained in welding knives.
1. Up a Sleeve – Arm Wrap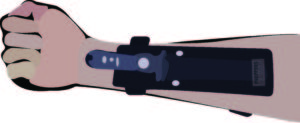 There are two similar methods of hiding a knife up a sleeve. First, use a cord securing the knife to your arm with the handle toward your hand and blade up your forearm. The cord is tied in a quick-release knot, leaving enough hanging to reach just above the start of the sleeve cuff, so it can easily be found and pulled, dropping the knife heel into the palm of your hand.
The second is to use two straps sewn in a button-up dress shirt. The middle of one strap is sewn right above the cuff of the sleeve, leaving two ends. Sew the second strap higher to secure the blade to the forearm. Once the dress shirt is on, unbutton the cuff, and use the sewn-in straps to secure the blade. The knife is secure with a remote-release knot so that it can be shaken loose, or by flexing your bicep, the knot comes undone.
– – – – – – – – – – – – – – – – – – – – – – – – – – –
2. Belt Sheath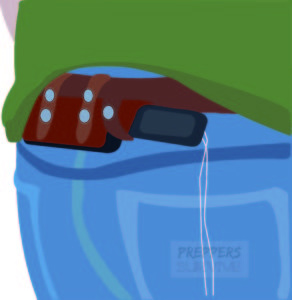 A sheath parallel to the belt can hide a knife by adding a coat or long shirt over the top. This horizontal position of the knife is known as a scout carry. It is the most preferred style to carry a fixed-blade knife, according to a poll taken by offgridweb.com, which included 2,420 entries.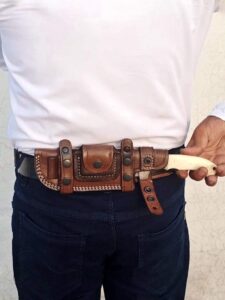 – – – – – – – – – – – – – – – – – – – – – – – – – – –
3. Boot Clip or Ankle Wrap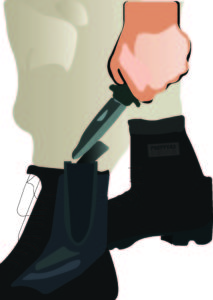 A boot knife was the preferred method of carrying a fixed blade before pistols became commonplace. A boot knife was known as a gambler's dagger in the mid-1800s. When cheating occurred during a poker game, gamblers reached in their boots for a 3-5 inch knife. Nowadays, it is typically clipped to the inside or outside of a high-top hiking or tactical boot with pants covering it. Today, law enforcement, soldiers, and hunters use a boot knife. It also is a self–defense tool for camping and, unfortunately, walking down the street.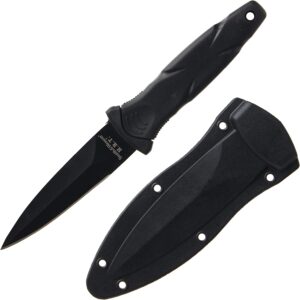 – – – – – – – – – – – – – – – – – – – – – – – – – – –
4. Weaved into Shoelaces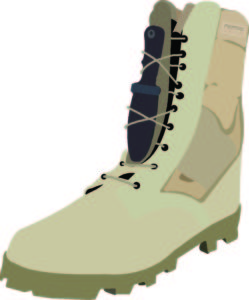 Gear is getting better with technological advances. However, wearing a knife near the ankle can be uncomfortable! Especially if you hit your foot in just the right spot. Many modern-style sheaths have holes around the edges for attaching the knife to just about anywhere. But if you want to be more comfortable and prefer a boot knife, this method is for you.  For tips on attaching a knife to a boot, visit Dave's Homestead.
– – – – – – – – – – – – – – – – – – – – – – – – – – –
5. Neck Knife Concealed Blade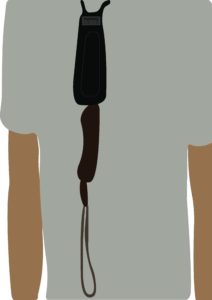 Neck knives were commonplace with Native Americans and Vikings. The sheath holds tight to the blade and has a long cord to wear like a necklace. The knife is then hidden under a shirt or garment. To learn about the pros and cons of neck knives, visit Top Survival Weapons.
– – – – – – – – – – – – – – – – – – – – – – – – – – –
6. Shoulder Sheath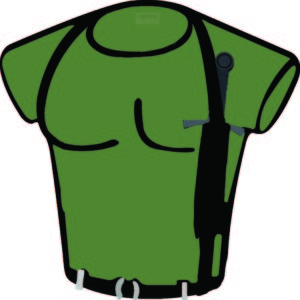 X4CTO made a video on how to quickly make a knife harness out of paracord.
Thanks for visiting Preppers Survive. Before you leave, subscribe to our newsletter. If you enjoyed this article, Six Places to Hide a Knife, please share it on your favorite social media.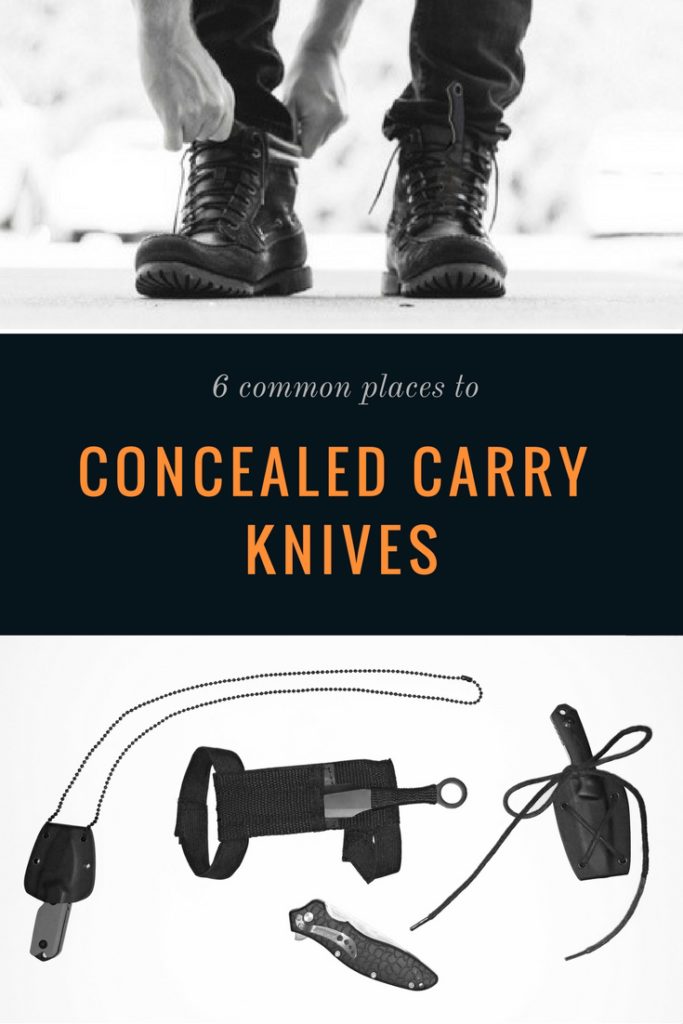 This post may contain affiliate links. Thank you for visiting Preppers Survive and using the affiliate links to make purchases at no extra cost to you. Your support makes this site possible. See full disclaimer.